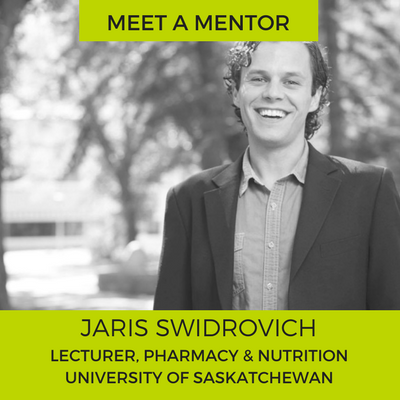 Dr. Jaris Swidrovich is a member of Yellow Quill First Nation and was born, raised, and continues to reside in Saskatoon, Saskatchewan. He graduated from the University of Saskatchewan in 2010 with a Bachelor of Science in Pharmacy (BSP) and later completed a full-time post-baccalaureate Doctor of Pharmacy (PharmD) degree at the University of Toronto in 2013.
In his initial years as a health professional, Dr. Swidrovich took note of the over-representation of Indigenous people in virtually all areas of health care. He also noticed many issues related to inadequate education of health care workers on Indigenous history, health, and culture. Both in his previous and current work as a clinical pharmacist, and as a faculty member at the College of Pharmacy and Nutrition at the University of Saskatchewan, he is dedicated to educating health care workers and students on Indigenous issues and reconciliation. He is involved with "Indigenizing" the University of Saskatchewan in a variety of areas and frequently finds himself working with fellow faculty both locally and nationally on how to proactively address the Truth and Reconciliation Commission of Canada's Calls to Action.
In his career thus far as a pharmacist, Jaris has worked as a Clinical Coordinator of Pharmaceutical Services with the Saskatoon Health Region, where his clinical work was caring for adult inpatients living with HIV/AIDS and substance use disorders. He also works with and advocates for other diverse and marginalized populations who may be living with HIV/AIDS, mental illness, and/or poverty. He remains active on the City of Saskatoon's Cultural Diversity and Race Relations Committee, as a Director on the board of the Saskatoon Community Clinic and also Sanctum Care Group (a transitional care home and hospice in Saskatoon for people living with HIV), and is a regular clinical pharmacist and mentor at SWITCH, which is Saskatoon's student-run clinic called the Student Wellness Initiative Toward Community Health that operates out of Westside Community Clinic in the core neighbourhood of Saskatoon.
Research Interests and Activities: 
Indigenous Health
Health professions education
HIV/AIDS
Poverty
Systemic racism
Mental health and addictions
Major Milestone
2013
Became the first self-identified First Nations Doctor of Pharmacy in Canada in June 2013.
Mentorship Opportunities with Dr. Swidrovich
 Actively seeking undergraduate students and is interested in mentoring students in:
academic and career choices
teaching
preparations for job talks, presentations and conferences
If you're interested in connecting with Dr. Swidrovich, please e-mail our network at sk.imnp@usask.ca